About Me
For a little background basics.... I grew up in what is known as the Spring Branch area of Houston, graduated from Northbrook and went to college at Sam Houston State in Huntsville, where I got a degree in Interior Design and Minored in Industrial Arts. I graduated in 1981.

Looking back now over the past 40 years of business life, I guess I would be called a serial entrepreneur. Always attracted to the construction business and in homes I started my 1st business out of High School, a wallpaper hanging company that put me thru college called Stick-Ups. I married and started my next business with my husband, a Landscaping Design and Installation company working for builders. One of the builders we worked for, a custom builder in the Memorial area, hired me for a time to work for him and I learned to pick lots, work with architects to develop plans, acted as the purchasing agent taking bids for work to be done, supervised the work, kept the books, and worked with Realtors and learned the basics of marketing a property to the public. This was really a tremendous experience, and the only time I have ever been employed by others.

The 80's were tough on the building industry, my builder went bankrupt as did all but one of the Landscaping company's builders and we followed them to Austin. Once here a new business idea began to formulate. Since I knew what builders were looking for first hand, I saw the need for a one stop shop for Interior Finish-Out to builders. A company to take care of buyers needing to make selections for a new home and a company to supply and install carpet, tile, wallpaper, vinyl, wood floors and window treatments in a turnkey fashion for these builders. This company was called Complete Design and it was in operation here in Austin for almost 15 years. It was during these years that I started taking Real Estate classes and eventually obtained my Brokers license.

By the late 90's I began to phased out the turnkey Interior Finish business. I had had a Real Estate brokers license for over 10 years but had only used it part time. Looking at homes, working on and with the design on homes had been my business, now was the time to start a Real Estate business. The new name, Design Realty & Finishes and as it has turned out, probably what I should have been doing all along.
Bottom line, Real Estate in some form has been my profession and hobby for 40 years now and Im tenacious about it. If you want to sell your home, you really will when you list with me. You say you're a Buyer? Well, pack your bags now, you'll be moving!

Click below to view my interview with Rough Hollow Living.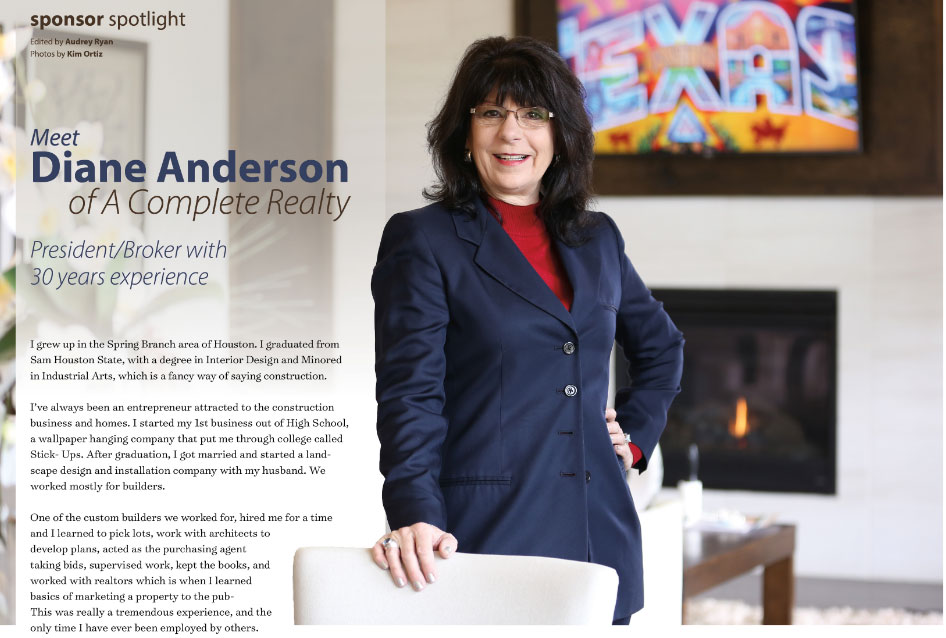 Hope to be working with you soon,
Diane Anderson

Diane Anderson
ABR, CLHMS, PSA, CNE, SRES
TX License Number
:
400627
Design Realty & Finishes, Inc.
A Complete Realty
Address
Lakeway Blvd
Lakeway, TX 78734